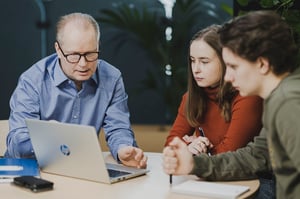 Business Coaching
Develop your company through Business Coaching!
Develop your company for success in the Business Coaching (8 study credits / 15 competence points). You will be able to create the goals for developing your company and a learning plan for yourself together with your coach. Together, you will also create content that best serves your business.
A prerequisite of participation is that the participant has a registered company with a business ID that they will develop during the coaching. If you don't have a registered company yet, check out Idea to business -course!
Who can apply?
Business coaching is meant for
Students, researchers and staff members of University of Jyväskylä and JAMK University of Applied Sciences.
JAMK and JYU* alumni, within one year after graduation.


* Students of University of Jyväskylä, graduating after 1.8.2023 are allowed to apply for Idea to Business course, Business Coaching and Product development funding even after two years of graduation. Remember to seek for alumni study rights from your own establishment.
Why should you apply?
You will have access to proven tools built by professionals
We will help you accelerate the growth of your company, if you so wish
You will receive customised, personal coaching
You will find suitable funding channels for your company
Plenty of silent knowledge you will not hear from your friends
Efficient networks
Entrepreneur peers and alumni, peer support
Support for your performance through digital coaching (e.g. sleep, recovery, nutrition)
Your chances of succeeding as an entrepreneur will improve
The coaching themes can include subjects such as:
Company-specific coaching on utilising operative and strategic management methods. Continuous support for management and development, monthly business review.
Sales initiation coaching, sales strategy coaching, sales management tips and tools.
Develop yourself and your business pitch.
Company and expert brand building coaching
Competitor analysis & marketing situation
Our experts' knowledge of different business sectors. Tips and tools.
Marketing initiation coaching, marketing management tips and tools.
Experiences of Business Coaching
"During the coaching program, I learned many significant things. However, the best part was definitely the opportunity to confidentially reflect on my decisions and thoughts, as well as share even my biggest dreams with an experienced entrepreneur."
"One of the most important things was that the coach asked the right questions. The coaching helped me calm down and focus on the right things."
"The year of coaching was extremely valuable for me, and I highly recommend it!"
"Sales have grown over 800% in three years. Now I no longer ring people's doorbells in the evenings."
Read about how Marjo utilized the services of Startup Factory with her business idea.
"Several tools, such as a systematic cash flow statement, are still in use in our company. I recommend the coaching to any aspiring entrepreneur. An external perspective from knowledgeable individuals is always welcome."
Read about how Entrepreneurship Coaching helped Topaasia in their early stages.
How has the Business Coaching been useful?
The confidence in financial management gained from the Business Coaching was instrumental when Padel Jyväskylä, the company behind Jyväskylä's first dedicated padel hall, sought funding and partnerships.
"The most important assistance came from the knowledge and support provided by Yritystehdas in planning and managing the company's finances. When these aspects are mastered thoroughly, the world is open to the entrepreneur."
Sales and sales development were the primary reasons why Topaasia, a company specializing in serious games, sought Business Coaching:
"The Business Coaching provided a critical yet encouraging assessment of what we were doing. Several tools, such as systematic cash flow statements, are still in use within our company. I highly recommend the coaching to any aspiring entrepreneur. External perspectives from knowledgeable individuals are always valuable."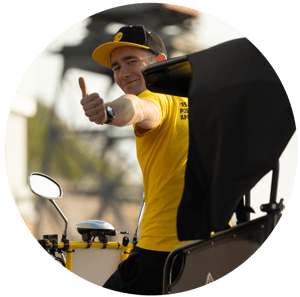 Developing a business strategy for Otto Rantala and Joel Wenning's company received a significant boost through Business Coaching:
"Thanks to the development of our business strategy, we now have clear goals and the tools to achieve them. Having gone through the stages of the company's life cycle, we know what future requirements, such as selling the company, entail."
Building profitable growth began for Cityspotting with the development of marketing and marketing measurement:
"Business Coaching has been a tremendous advantage for me personally, but also for the entire company."
The desire to build their own vision of work life led Juuso Tiitola and Olli Järvi, who were studying at the University of Jyväskylä, to establish their own company and join Business Coaching:
"Just being within the sphere of influence of Yritystehdas and having proper facilities made a big difference. If we had stayed working on this while wearing our slippers at home or spinning around in the school premises, we would have already stumbled."
What do you need to take into account when applying for Business Coaching?
Please note that the following criteria must be met for you to be eligible to apply for Business Coaching:
Your company has a business plan
Your company has profitability calculations:
cash flow calculation
profit and loss account


Completion of a coaching course, such as
Frequently asked questions about Business Coaching
Who can apply to business coaching?
The coaching is open to students, researchers, and staff members of Jyväskylä University of Applied Sciences and the University of Jyväskylä, as well as alumni of these institutions within one year of graduation.
Do I have to already have an established company?
To participate in Business Coaching, you'll have to have a registered company with a valid business identification number (Y-tunnus).
How can I apply?
You can apply for entrepreneurial coaching continuously using the form below. For more information, please contact your respective contact person at your educational institution, whose contact details can be found below on this page.
You can apply for the Business Coaching continuously - apply now!
Applicants for coaching present their Business Ideas to educational institution's coaches before being accepted for coaching. This will map out that the Business Idea is suitable for coaching. The presentation is a 5min pitching via Teams.
The following presentation dates are:
Thu 14.12. at 14.00 - 16.00
Mon 15.1. at 9.00 - 11.00
Fri 2.2. at 14.00 - 16.00
For more information, contact the contact person at your institution, contact details can be found below the form.
ANY QUESTIONS?
Contact your educational institution's contact person!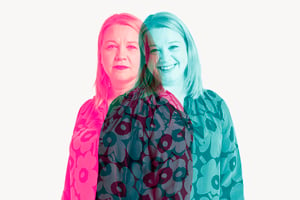 Klikkaa!
Klikkaa!
Reija Häkkinen
University of Jyväskylä
Reija Häkkinen
University of Jyväskylä