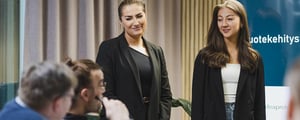 Present your idea to us and apply for Product Development Funding!
Do you have a great idea that you would like to test in practice? Does the lack of funding stop you from carrying out a test, building a prototype or ordering a review? The objective of the €500–€1,000 Product Development Funding is to inspire the students, researchers and staff of Jyväskylä University of Applied Sciences and University of Jyväskylä to invent new products and services and test them.
Please note! This funding cannot be applied for by a company and the funds cannot be used to pay wages. Funding is not available for procurement that would become the property of a potential start-up. (trademark, equipment, code or tools, for example).
For what purposes can Product Development Funding be applied for?
The Product Development Funding can be applied for implementing tests on or reviewing initial-stage ideas, e.g. for purposes such as
prototype tests
purchasing supplies
IPR reviews
making demos
Funding can be applied for to sums of €500–€1,000. The budget is prepared with VAT 0% prices.
Disbursment of the fund
The granted funding is not transferred directly to the applicant. Funding is granted against receipts/invoices/payment request forms, and the use of funding is agreed upon with the contact person of your university. Said person will be assigned after the evaluation and they'll discuss the details with you.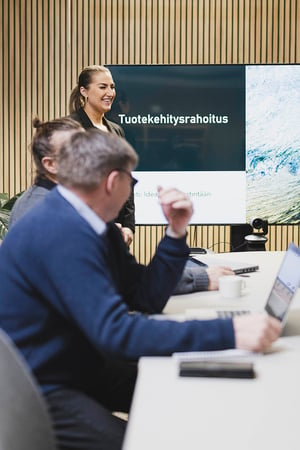 How can I apply for Product Development Funding?
Instructions for applying:
The Product Development Funding can be applied for four times during a school year. You can apply for the funding with a separate form and by preparing a 10-minute presentation of the company in advance, to be performed to the jury of 5–7 people consisting of the personnel of the Startup Factory and the educational institutes involved.
Get more detailed instructions for preparing the presentation by email
Assessment criteria:
The Product Development Funding jury will assess the inventions/business ideas based on such factors as their novelty, inventiveness and business opportunities. Applying does not require you to be able to pay for a share of the funding.
How has product development funding helped?
Building a prototype of a smart seat for competitive rowing training:
"The product development funding provided the courage to take the project to the next level, and we quickly gained momentum. I don't think I would have a ready-to-test prototype without the Product Development Funding from The Startup Factory."
Antti Löppönen | Dissertation researcher, the University of Jyväskylä
Engaging in risk-free product development and having the courage to experiment with the support of Product Development Funding:
"The funding came at the perfect time and was the ideal way to move the project forward."
Masi Mahlamäki | Student at Gradia
Experiences of getting Product Development Funding
"With the help of Product Development Funding, I was able to develop my own business idea, create various prototypes, and test products in practice. The financial support allowed me to experiment with different things with much less hesitation. I highly recommend Product Development Funding to anyone who has their own business idea and wants to develop it further before potentially starting their own company."
"We have, among other things, used the funding for conducting novelty searches regarding patents and utilized it for attending top conferences in Silicon Valley and networking in the United States. Product development funding can be used for various purposes, making it a flexible and versatile form of financing. If you have a new idea that you want to develop further, it provides opportunities for refinement."
"For us, 1000 euros was a significant help in the beginning when we didn't have much else to start with. The funding was a proof that there is something concrete and promising in our idea, as someone was willing to provide financial support for it. The funding also boosts the motivation to take action instead of waiting for something to happen with our idea."
Are you ready to apply?
Check when the future Product Development Funding jury meetings will be held and register to join
Frequently asked questions about the Product Development Funding
Who can apply for product development funding?
Product Development Funding can be applied for by students, researchers, and staff members of JAMK University of Applied Sciences and the University of Jyväskylä.
Note: Applicant can't be an already existing company, and the funding cannot be used for paying salaries.
Can an existing company apply for funding?
The applicant can not be a company.
How can I apply?
Check the upcoming schedule for Product Development Funding and fill out the application form on the Startup Factory website. If needed, seek assistance from the designated contact person at your educational institution.

You will receive information about your selection for the Product Development Funding panel approximately one week before the panel meeting. At that time, you will also be given your personal presentation time slot and detailed instructions on the application process and presentation preparation.

Attend the panel meeting at the scheduled time to present your idea. You will have 10 minutes for your presentation, followed by a 5-minute question-and-answer session. You will receive notification about the funding decision a few days after the panel meeting.

After receiving a positive decision, you can complete the optional parts of the FF module at JAMK.

For more information, contact your educational institution's designated contact person.
Do you need more information?
Please contact the contact persons of your educational institute.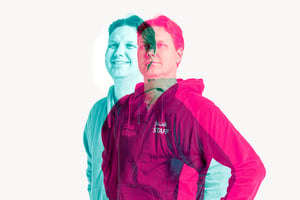 Klikkaa!
Riku Ojanperä
JAMK
riku.ojanpera@jamk.fi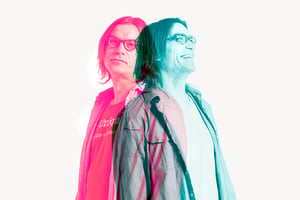 Klikkaa!
Jarno Mikkonen
University of Jyväskylä
jarno.e.mikkonen@jyu.fi
Jarno Mikkonen
University of Jyväskylä