Welcome!
Jyväskylän Yritystehdas Oy
Kympinkatu 3 C | 40320 Jyväskylä
Yritystehdas - The Startup Factory located in Kankaan Arkki. Our entrance is behind the building.
Note! We don't have own parking space. The nearest parking space is parking garage P-Arkki (Paperitehtaankatu 23) and P-Pergamentti (Paperitehtaankatu 3).
Questions? Please contact our business coaches!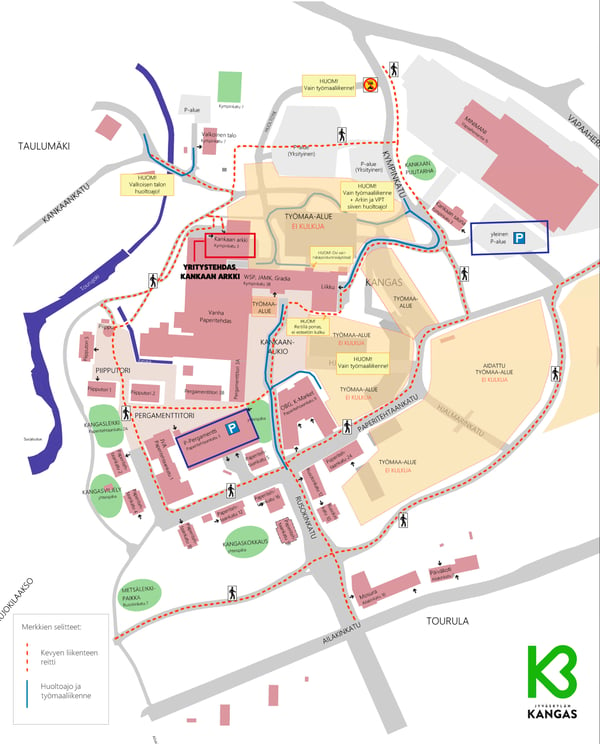 Exceptional routes in Kangas
Yritystehdas is located in Kankaan Arkki at Kympinkatu 3c.
When arriving by car, the nearest parking facility, P-Arkki, is right next to Kankaan Arkki at Paperitehtaankatu 23. You can also find parking at P-Pergamenttihalli (Paperitehtaankatu 3), from where you can walk through Pergamenttitori and Piipputori to reach Kankaan Arkki.
If you're arriving on foot, by bicycle, or using a scooter, you can see the walking routes marked with red dashed lines on the map below to find your way to Kankaan Arkki at the moment.
You can also download the map in pdf format here.
Billing information
Our e-invoice addresses are:
Operator: Apix Messaging Oy (003723327487)
Electronic invoice address: 003728689508
Electronical Data Interchange ID (EDI): 003728689508
Please note that when sending e-invoices to our Apix address from Danske Bank Oyj, Handelsbanken, Paikallisosuuspankit or Säästöpankit you must send e-invoices to following address: e-invoice address: 003723327487 and operator code: DABAFIHH.
If you are not able to send e-invoices, we ask you to send invoices to the purchase invoice scanning service.
The address for email scanning:
003728689508@procountor.apix.fi
The actual invoice must be in the email as a PDF attachment. One email must only contain one invoice. If email has other attachments they are included as attachments for the invoice. Maximum file size for email attachments is 2 MB. After the email is processed service will produce an automated acceptance or error reply email within 15 minutes.
The address for paper invoices:
Jyväskylän Yritystehdas Oy (Apix scanning service)
P.O. Box 16112
00021 LASKUTUS
To enable the scanning service to recognise your invoice, the invoice address is to be printed on the actual invoice, not only on the envelope. Please note that no other material than invoices is allowed to be sent to this address.