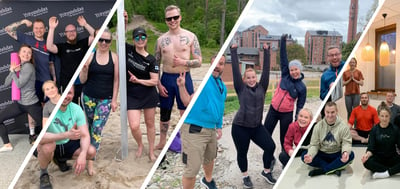 Performance Program
Performance Program
revolutionises traditional incubator coaching!
The teams give a high performance and the entrepreneurs have a high level of well-being
Our customer companies will not fall into the pitfalls of many startup entrepreneurs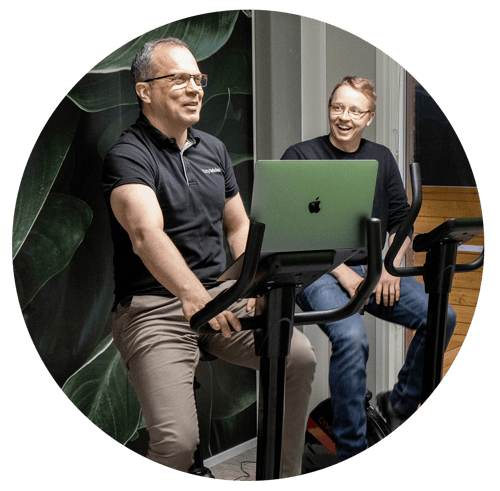 The Performance Program coaching is built around three themes: developing performance, the team and growth culture.
Performance is based on many factors, such as recovery, sleep, nutrition, physical health and stress management. In addition to promoting performance, we reinforce the growth companies' growth culture. Growth culture is built on a healthy and safe working environment, strong employer image and a true feeling of community.
The People section of the Performance Program focuses on themes such as smooth teamworking, strong leadership work, developing individual skills, recognising your own strengths and appreciating the diversity of team members.
Studies show that work ability is the most vital aspect and tool of a manager. The content of Performance Program gives concrete tools for the successful management of growth companies, with regard to individual performance, team operations and company culture alike.
A detailed coaching programme as well as several shared coaching events and potential camps have been compiled for the Performance Program. A customised coaching path will be built for each company. The incubator agreement includes a commitment to the Performance Program.
We coach the highest-performing and healthiest growth entrepreneurs
The challenge of many companies is that the well-being and health of the entrepreneur cannot handle the entrepreneur's workload. More and more people are working at the cost of their own well-being. The structures of many young startup companies are still being built and working in an environment strongly focused on growth requires the ability to manage all aspects of business as well as the skill to manage yourself and others. Our duty is to train growth entrepreneurs to be able to manage the demands and pressures brought on by growth.
The Performance Program themes
Performance
Time and stress management
Recovery
Nutrition
Self-management
Physical well-being
People
Developing skills
Individual strengths
Richness of diversity
Leadership and management
Working as a team
Recruitment
Culture
Work environment
Sense of community
Culture of a growth company
Employer image
Success is a by-product of well-being.
Why does our incubator include the Performance Program?
No business can succeed if the people behind it are not doing well. This is why our coaching focus not only on developing business but also the company's most crucial resource – its people.
Well-being as an investment

The ROI of a well-being investment is sixfold. High-quality work ability management increases:

turnover by 5–10%
profit by 20–60%

Well-being and success

Profitable and successful companies invest twice as much in occupational well-being services and staff training as companies in a weaker financial position.

Developing the employees' self-management skills gets better results in increasing productivity than making production more efficient or introducing new technology, for example.

An entrepreneur's well-being

Studies show that work ability is the most vital aspect and tool of a manager. Good diet, sufficient sleep, and adequate physical, psychological and social activity have a positive effect on maintaining occupational abilities.

Self-management

Growth entrepreneurs give themselves a more positive assessment than other entrepreneurs in many aspects, but this great work engagement comes with the risk of a burnout.

The risks of an unplanned and uncontrolled work burden: prolonged stress wears you out and ages your brain.
The pilot study of the Performance Program
The Performance Program was tested as a half-year-long pilot with the Startup Factory's first incubator customers, starting from October 2019.
A total of 86% of the Performance Program's pilot participants felt that they experienced many positive effects in at least one subject of the training. Most positive effects took place in the sectors of sleep and self-knowledge, such as recognising one's own strengths and weaknesses as well as identifying and developing the limits of one's performance.
In total, 86% of the respondents felt that these sectors had improved a great deal or somewhat as a result of the training, and a further 70% said that a suitable diet and exercise had helped them find more energy in their day-to-day life. For many, the coaching also had many beneficial effects on their stress control, for example on recognising how much they are able to work without compromising their performance.
The pilot study of the Performance Program showed that the effects on well-being could be seen in just six months!
73
%
GOT MORE ENERGY FROM EXERCISE
86
%
FELT THAT THEIR QUALITY OF SLEEP HAD
63
%
WERE ABLE TO REGULATE THEIR STRESS
Feedback from participants
"A really great programme! I'm pleased that well-being has been given such a vital role in succeeding in your work and business. It is often only talked about, but this time, the Startup Factory concretely showed that this is important and people want to invest in it. Fantastic"
"A really nicely planned unit that reviewed the different sectors of well-being in a comprehensive way. I hope you will continue to invest in this! There's certainly a demand for it, and the benefits are indisputable!"
"Thanks for a great pilot. The best parts for me were the flexibility of the programme and the possibility to pick and choose the units that would best support my development."
Would you like to hear more about Performance Program?
The Performance Program is a part of our Incubator.