Incubator offers
The Startup Factory's incubator enables rapid and stable growth
Have you already met our brilliant team of coaches?
Strenghten your team's unique market solution.
In the Incubator Program, we provide coaching and support for you and your business.
Experienced coaches challenge your team in scaling your business, securing growth funding, and expanding internationally with the right tools and metrics right from the beginning.
Startups have access to the coaches' expertise for up to 24 months.
Have you already met our brilliant team of coaches?
Read more about the Incubator's unique Performance Program!
Maximize the value of your company quickly
Our incubator program provides the best platform for rapid growth.
We challenge teams to focus on the right things and unleash their full potential.
Our client companies do not fall into the startup valley of death - the teams are high-performing, and the entrepreneurs thrive!
Read more about the Incubator's unique Performance Program!
Take advantage of our amazing facilities and immerse yourself in a culture of growth
You will have access to a total of 800 m² of modern office space in the newly constructed Kankaan Arki building, completed in 2021.
Designed by professionals, the shared and private workspaces offer versatility for various activities such as sales work, meetings, and focused work.
The facilities include meeting rooms, remote and conference technology, as well as an event space for up to 50 people, which are available for use by incubator companies 24/7.
The Incubator provides you with
Experienced and entrepreneur-driven coaching team
Our strength lies in our entrepreneur-driven team, which has accumulated expertise over decades. The core team of Yritystehdas consists of entrepreneurs, experts, investors, and seasoned business professionals who have genuine personal knowledge and experience in entrepreneurship, international startup business, and strong stakeholder engagement.
Here is our accumulated experience so far, in numbers:
2600
amount of coaching references
106
Years of entrepreneurial experience
84
Amount of business acquisitions
64
number of advisor and board roles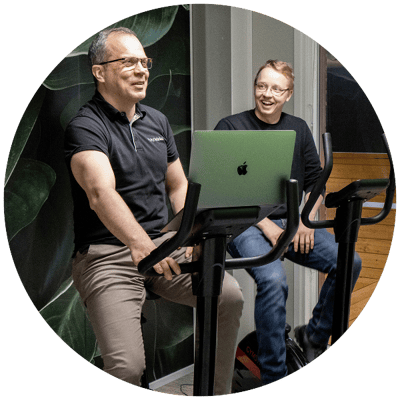 Nurture to the mindset and to the business
We coach entrepreneurs for success and well-being in their growth journey
The well-being and resilience of entrepreneurs is not a coincidence. That's why, in addition to business coaching, we also provide coaching for the individuals behind the business. The well-being and performance program called Performance Program is an integral part of our incubator concept for our client companies.
The program offers coaching on three key themes: entrepreneur's performance, team development, and fostering a growth culture. We genuinely want to be actively involved in supporting and building the growth of our incubator companies and the success stories of the future!
Learn more about the Performance Program!
Why should you choose our Incubator?
We will boost your growth
Continuous coaching

Funding channels

Flexible facility solutions
Plenty of silent knowledge

Entrepreneur peers and alumni

We optimise entrepreneurs' performance through our Performance Program

The chances of success will improve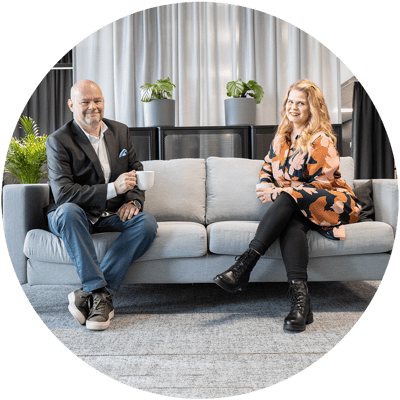 For whom?
You are welcome to the Startup Factory's incubator if you have a scalable business idea, meaning that your company has its own product or idea that can be taken to international markets, and if you have a team behind your company and the will to grow.
We review about 1,200 business ideas every year and accept 12 of the most promising Jyväskylä-based startups with realised cumulative turnover of less than €1 million into the Startup Factory's 12 month + 12 month incubator. An external gate jury will always choose the companies accepted to the incubator. The Growth Accelerator of the Venture Development Finland keeps a close eye on the incubator process. It offers its services to startups that have achieved cumulative turnover exceeding €1 million.
INCUBATOR CRITERIA​
The incubator is a two-year process that selects only the most promising startups aiming for growth. Growth requires strong commitment and determination which is why our standards for admission are high. Check them out below.
Klikkaa lisätietoja!
OWN SCALABLE PRODUCT/SERVICE
OWN SCALABLE PRODUCT/SERVICE
A credible plan for acquiring the capital and human resources required in order to be scalable
Klikkaa lisätietoja!
COMMITTED TEAM​
At least 2 full-time entrepreneurs/employees
Klikkaa lisätietoja!
Credible financing plan
The company has a credible plan for financing their business in the foreseeable future
Klikkaa lisätietoja!
ENTREPRENEURS' WILL TO SUCCEED​ AND RECEIVE COACHING
ENTREPRENEURS' WILL TO SUCCEED​ AND RECEIVE COACHING
A clear understanding of the coaching's main focus. This has been mapped out with the Startup Factory.
Klikkaa lisätietoja!
CONNECTION TO JYVÄSKYLÄ​
The company is registered to Jyväskylä and their key-players are committed to the Startup Factory's services.
Klikkaa lisätietoja!
COMPANY'S WILL ​AND ABILITY TO GROW​
COMPANY'S WILL ​AND ABILITY TO GROW​
The company requires full-time work and active piloting, their product development is almost done and the funding is planned.
"Asiat etenivät nopeasti ja ilmapiiri oli kannustava"
Laadukas prototyyppi rakentui Tuotekehitysrahoituksen avulla
Antti Löppönen toteutti ideansa prototyypin kilpamelomiseen tarkoitetusta älyistuimesta Tuotekehitysrahoituksella.
"Koko prosessi Yritystehtaan Tuotekehitysrahoitusta hakiessa oli tehty todella helpoksi ja sujuvaksi. Tuotekehitysrahoitus antoi rohkeutta viedä homman seuraavalle tasolle, ja sinne noustiinkin sitten melkoisella vauhdilla. En usko, että minulla olisi vielä valmiina testikelpoista prototyyppiä ilman Yritystehtaan Tuotekehitysrahoitusta"
Antti Löppönen
väitöskirjatutkija, Jyväskylän yliopisto
Kurkkaa kokemuksia Yritystehtaan tapahtumista!
Kyllä tämä ihan kymppiä hipoo.
Tapahtuma oli onnistunut. Toteutuksessa näkyi, että se oli hyvin suunniteltu ja ammattimaisesti/laadukkaasti toteutettu.
Tässä lyhyessä n. 1 h paketissa avattiin hallitustyön tärkeyttä hyvällä tavalla. Siinä tuli esille monia asioita, joista yritysten ja lähinnä omistajien pitää tietää. Ei pelkästään tietää, vaan pitää toimia! Erittäin hyvä aamupäivä, sanoisinko LOISTAVA!
Tällaiset tilaisuudet ovat hyviä ja välttämättömiä, että yritykset alkavat tunnistamaan termejä ja löytämään oman tapansa toteuttaa vastuullisuutta sekä viestiä siitä. Kiitos puhujien valinnasta,
mielenkiintonen
kattaus ja hyvät puhujat.
Positiivinen ja innostava ilmapiiri. Todella mielenkiintoiset ja rohkaisevat yrittäjätarinat! Hieno juttu, että järjestätte näitä tilaisuuksia.
Kahvikiihdytys on hyvä ja mielenkiintoinen tapahtuma vaihtelevilla teemoillaan.
Hyvin rakennettu kokonaisuus; toisiaan täydentävät puheenvuorojen pitäjät.
"

Webinaari oli positiivinen, innostava ja inspiroiva. Oli tärkeää kuulla, että nykyajan ja tulevaisuuden työelämä kannustaa moniin ammatteihin ja oman osaamisen hyödyntämiseen monilla eri tahoilla. Varovaiset ajatukset tulevaisuuden itsensätyöllistämisestä saivat rohkaisua ja vahvistuivat. Kiitos

!"
"

Hienosti järjestetty tilaisuus. Tietysti olisi aina mukavampi tavata ihmisiä kasvotusten, mutta etänä tätä olisi tuskin voinut enää paremmin hoitaa. Kivasti onnistuitte välittämään positiivisen tunnelman sieltä tänne linjojen päähänkin. :)

!"
"

Mentorointi ei etukäteen ollut kovinkaan tuttua, joten tässä tuli paljon uutta tietoa ja käytännönläheisiä kokemuksia aiheeseen liittyen. Heräsi innostus harkita mentorointiohjelmaan hakeutumiseen. Kiitos mielenkiintoisesta kahvikiihdytyksestä kaikille osallisille!

"
Inspiroidu, kehity ja kehitä!
Osallistu tapahtumiimme!
Yritystehtaan  ja yhteistyökumppaneiden  koulutukset  ja tapahtumat  tarjoavat mahdollisuuden tulla kehittämään  omaa  osaamista. Rennolla, mutta raudanlujalla ammattitaidolla tehdyistä koulutuksista et tule lähtemään tyhjin käsin.
Sukella syvemmälle Hautomon tarinoihin blogissamme!